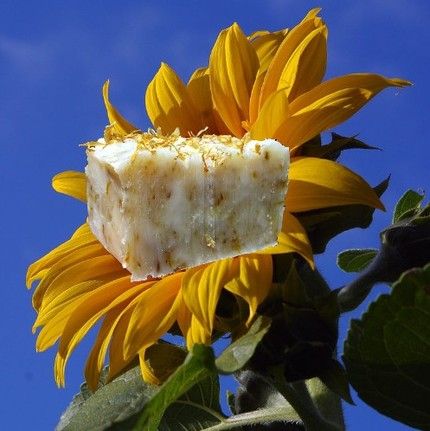 Sunflower Artisan Soap with Calendula Petals, Organic Oils and Shea Butter (vegan happy)
One whiff of this soap and no matter the season, SUMMERTIME is a state of mind. Bursting with sunflower goodness and peppered throughout with skin nourishing calendula petals, you're body is in for a treat.
Please keep in a well draining soap dish to make your bar last longer.
*This listing is for one 4-4.5 oz bar of soap. If you'd like more than 1, please convo me or email me at mountainmamachic [!at] hotmail.com and I'll set up a reserved listing just for you.
PURE OLIVE OIL- Softens and soothes skin
ORGANIC PALM OIL - Rich in vitamins A and E, powerful antioxidants that moisturize and fight cellular damage
ORGANIC COCONUT OIL - Softens skin, relieves dryness and flaking, and helps prevent wrinkles, sagging skin and agespots
NATURALLY OCCURRING GLYCERIN - This expensive moisturizing agent is a natural byproduct of soap making. It helps your skin hold in moisture and is found in every bar of my homemade soap.
ORGANIC SHEA BUTTER - Moisturizer with antiaging properties aiding to fight fine lines, wrinkles, dry skin and dullness. Vitamins A, D and E nurture and regenerate skin. Protects skin from oxidation and sunrays
SWEET ALMOND OIL - Great emollient that improves complexion
CALENDULA - Soothing to skin, aids in regenerating damaged tissues and is antibacterial
ORGANIC HEMP OIL - Contains Omega 6, 3 and 9 which help our skin hold moisture and a preventative in skin aging
ORGANIC CASTOR OIL - Moisturizer that is antiviral and helps draw lodged toxins out of the body